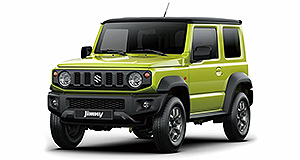 SUZUKI'S Jimny off-road wagon could be heading to pasture in Europe – or force the Japanese manufacturer into offering a new powertrain – barely two years after its global launch as it faces an inability to meet incoming EU emission standards.
However, the cute little 4×4's position is not under threat in the Australian market.
The new formula for Europe is based on weight and size of the vehicle, and will require a fleet average of 95 grams of CO2 per kilometre.
The rules are being rolled out this year and take full effect from January 1, 2021.
The Jimny with automatic transmission is Suzuki's least economical variant with an average of 158g/km.
This compares with the Swift (from 106g/km), Vitara (from 131g/km) and Baleno (from 118g/km).
Suzuki Great Britain said that the new rules would lead to the Jimny remaining on sale in the UK this year "in limited numbers".
But it may be pulled from Europe in 2021 as the new threshold is introduced.
The European emission regulations will not immediately affect the Australian market.
Suzuki Australia general manager of automotive, Michael Pachota, told GoAuto that there was no impact on the vehicle here.
"There is no information from Suzuki Motor Corporation (SMC) suggesting that the statements regarding the Jimny in Europe are factual," he said.
"I have not seen any communication from SMC verifying this strategy in Europe.
"I can confirm that in Australia, it's business as usual for Jimny."
Launched a year ago, the Australian-spec Jimny, like all export markets, use a 75kW/130Nm 1.5-litre four-cylinder petrol engine, paired with a five-speed manual or four-speed automatic transmission.
Based on the Australian test cycle, the manual version produces 146g/km of CO2 while the auto emits 158g/km.
The latest National Transport Commission figures show that Australia's average CO2 emissions level across all new light vehicles in 2018 was 180.9g/km.
There is no legislation in place for mandatory targets to be achieved.
In a statement released this week, Suzuki GB said: "At launch in late 2018, Suzuki announced that the higher CO2 emissions levels of this model would adversely affect its whole range CO2 average in Europe after 2020.
"This target was set across its range of vehicles according to EC CAFE legislation."
Suzuki has an agreement for electric and hybrid vehicle technology with its major shareholder, Toyota Motor Corporation. Toyota owns 4.94 per cent of Suzuki.
Suzuki has already confirmed it has developments in hand to reduce CO2 emissions for its range, including the introduction of 48-volt hybrid drivetrains derived from Toyota.
In Europe, Suzuki introduced a 12-volt mild-hybrid version of its Ignis in 2016 and recently expanded the drivetrain to the Swift. Neither are available in Australia.
Suzuki sold 1391 examples of the Jimny in Australia last year, making it the brand's fourth-biggest seller behind Swift, Vitara and Baleno.
---