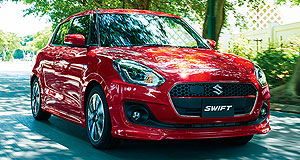 SUZUKI has confirmed that a Swift Hybrid hatchback is set for launch in Australia sometime next year to take on the $24,040 before on-road costs Toyota Prius C Hybrid.
The Swift with a petrol-electric powertrain will be priced and positioned sharply to help increase the model's reach, according to Suzuki Australia general manager for automobiles, Michael Pachota.
"There has been a lot of talk about electric vehicles and hybrid technology, and we have very good hybrid technology available in the Swift overseas," he told GoAuto at the launch of the all-new Jimny off-roader in Melbourne this week.
"I have a view to introduce that within the next two years within the Australian market, but it has to be at the right price for Australian consumers.
"I'm currently studying with Suzuki Motor Corporation (SMC) with regards to the introduction and price-point opportunity to have in Australia. It would be our entry into the Australian market with a hybrid product, and we would love to do it in the light car segment… with a price range that – unlike some other manufacturers that ask quite a hefty premium to introduce hybrid technology – would make it very, very affordable."
Unveiled globally earlier last year, the Swift is actually offered in two distinct hybrid forms – one 'Mild' and the other 'Strong'.
The former, known as 'Smart Hybrid Vehicle by Suzuki' (or SHVS), features an integrated starter generator (in place of an alternator) with an electric motor function and 12-volt lithium-ion battery to help boost efficiency to the 67kW/118Nm naturally aspirated 1.2-litre Dualjet four-cylinder petrol engine/CVT combo, resulting in a 3.6L/100km average on the Japanese test cycle.
The same Dualjet engine in the Swift 'Strong' hybrid, meanwhile, brings a five-speed clutchless automated transmission (dubbed AGS), a 10kW/30Nm electric motor and a rear-mounted 100-volt lithium ion battery pack, for an average of 3.1L/100km. It can also run at up to 24km/h in pure EV mode before the engine kicks in.
In contrast, the ageing Prius C teams a 54kW 1.5-litre naturally aspirated four-cylinder engine with a 45kW electric motor for a combined output of 74kW/169Nm and a fuel consumption figure of 3.9L/100km.
Which Swift Hybrid is slated for Australia is currently unknown, and both may be a possibility, though it is clear Mr Pachota is waiting for the right specification for our market – and that may mean waiting for an automatic with the 'Strong' Swift.
"SMC globally is a conservative company, and they like to do things also very strategically as well, to make sure to strike while the iron is hot," Mr Pachota explained.
"At the moment, price has a bit to do with it and we want to make sure that's right, and the tooling to be able to export to Australia with a product like that, the support has to be there from an aftersales perspective in regards to battery treatment and things like that, and SMC have a lot on their plate at the moment with regard to EV introductions into other countries.
"This is something that is ever-evolving. I wouldn't say it's a slow process – but it's not a quick one."
Mr Pachota believes the introduction of hybrids will only solidify consumer perceptions that Suzuki is at the forefront of inexpensive and economical motoring.
"All our vehicles we offer in our Suzuki range are flagships in the green category based on their fuel efficiency and carbon footprint," he said. "We have some of the most fuel-efficient vehicles in their classes, and we can satisfy every buyer's needs."
---