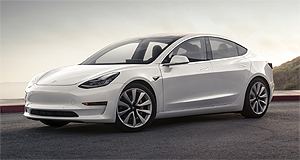 TESLA'S new all-electric Model 3 has arrived in Australia with a splash, with 2414 units rolling out to customers since August in the biggest electric car sales operation in Australian history.
Prepped at the Inchcape-owned AutoNexus vehicle logistics centres in Brisbane, Sydney and Melbourne after arriving on car carriers from the United States, the smallest and most affordable Tesla model has instantly become the top-selling electric car in the country as patient customers in Australia finally take delivery more than two years after production started for their American counterparts.
Unlike most other manufacturers that lodge sales figures with the official VFACTS data service, Tesla does not announce sales volumes, but GoAuto understands the numbers of Tesla 3s arriving in Australia dwarfs the sales of any other EV, even including other well-established Tesla models such as the Model S large car and Model X SUV.
Depending on how many of the Model 3s shipped to Australia were registered in September via Tesla's small dealership operation, the mid-sized sedan might have been one of the top-10 selling vehicles in the land for the month – the first time an electric vehicle would have ever achieved that success.
In August, only five vehicles achieved more than 2000 sales for the month.
We are unlikely to know Model 3 sales data for certain, but the volume is clearly in mass-manufacturer territory for the first time, at least in the launch phase.
According to a recent Australian National Transport Commission EV report, Tesla is estimated to have delivered 1300 vehicles in Australia 2017 and about 1005 in 2018.
By that count, Tesla will deliver more Model 3s in September than it did of its other two models in the previous two years combined.
By contrast, Nissan has registered 226 all-electric Leafs since the new-generation model went on sale in August, although those numbers are believed to be supply constrained.
Overall EV sales numbers in Australia are hard to quantify, as not only does Tesla not publish its figures but VFACTS combines both pure EVs and plug-in hybrid electric vehicles (PHEVs) in its public data.
Going by VFACTS figures for these electrified vehicles to the end of August, sales have grown 107 per cent, from 895 in 2018 to 1852 this year to date in an overall national market down 8.0 per cent.
The Model 3 figures obtained by GoAuto show the hidden growth figure is much higher, and could be as much as 400 per cent this year.
With driveaway prices starting at $73,135, the Model 3 is half the price of the larger Model S that comes with a driveaway price of $148,392 from the modest affordable version, the Long Range.
The Tesla Model 3 comes in three variants – the rear-wheel-drive Standard with a purported driving range of 460km and a 0-100km/h time of 5.6 seconds.
Next up the range is the all-wheel-drive, twin motor Long Range with – as its name suggests – the longest range of 620km. It does the 100km/h dash in 4.6 seconds.
At the top of the pile is the Performance with a range of 560km and acceleration to 100km/h in a muscle-car-like 3.4s.
---