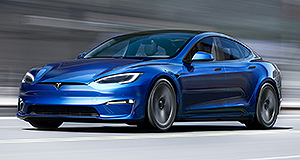 TESLA has announced Australian pricing and specification highlights of its much-delayed Model S Plaid flagship, a car said to be capable of a 2.1-second dash from 0-100km/h and covering up to 628km on a single charge.
Available to order now via the Tesla Australia website for $186,990 plus on-road costs, first deliveries of the green super-sedan are expected to commence from the end of next year.
Underpinned by a tri-electric motor set-up and drawing its power from a lithium-ion battery of undisclosed capacity – given the power and range on offer it is expected to be well clear of 100kWh – the Model S Plaid develops 761kW although the final torque figure remains shrouded in mystery.
Despite weighing in at 2162kg, Tesla says the Model S Plaid is the only production car in the world to have broken the 'two-second barrier' with a claimed 1.99s sprint from 0-60mph (0-97km/h) minus a "one-foot rollout".
This is enough, according to brand CEO Elon Musk, to make it the fastest accelerating car in the world.
"With Plaid we've managed to break the two-second barrier if you will – no production car has ever done 0-60 (mph) in under two seconds," he said at the reveal event on June 10.
Once rolling, the Plaid will reportedly cover the quarter mile (400m) in 9.23 seconds and push on to a 322km/h (200mph) top speed, enough in Mr Musk's eyes to deem it "the quickest production car of any kind".
For reference, a Bugatti Chiron Sport covers the quarter mile in 9.4 seconds.
Mr Musk's comments didn't seem to sit well with Croatian EV specialist Rimac however, which took to Twitter with a YouTube video – replying directly to a post by Mr Musk – showing off the performance of its then still under development Nevera hypercar.
In the video, the C_Two (later dubbed Nevera) covers the standing quarter mile in an indicated 8.94 seconds after launching from 0-60mph in 2.33s on a disused road.
Now the Nevera has reached production, Rimac is claiming a 1.85-second 0-100km/h time and a 412km/h top speed.
Discounting a tit-for-tat specs war, both cars are outlandishly fast, so much so that Mr Musk confirmed the formidable Model S Plaid+ project had been cancelled due to the standard Plaid being "just so good".
The cancelling of the Plaid+ has left some fans and the American media reeling however, with Tesla opting to bump up the regular Plaid's sticker price by an even $US10,000 ($A12,969) just hours before its virtual debut with some outlets suggesting the hike to be a shortfall generator given – what was – the larger price of the Plaid+.
Whatever the reason, the Plaid level pegs the Mercedes-Benz EQS in being the most aerodynamic production car on the market with a drag coefficient of just 0.208, however it is worth noting Mercedes only quotes the EQS' figure to two decimal places (0.20).
The Tesla's slippery body is without doubt one of the key contributing factors of its "estimated" 628km range, the other being its inevitably large battery capacity.
Inside the cabin, the dashboard is dominated by a huge 17-inch "cinematic display" serving as an all-encompassing infotainment screen and a yoke-style steering 'wheel' that has no upper rim.
The driver also scores a digital instrument panel while rear occupants are treated to their own 8.0-inch infotainment screen.
Standard equipment highlights include multi-connection Bluetooth, wireless and USB-C charging, a 960-watt, 22-speaker audio system with active noise cancelling, folding rear seats, surround view cameras, 19-inch wheels, tri-zone climate control, built-in gaming computer, ventilated seats, ambient lighting, glass roof, power tailgate and satellite view maps among others.
"I think we've really taken it to a whole new level with Plaid," Mr Musk said.
"Sustainable energy cars can be the fastest cars, the safest cars and can be the most kick-ass cars in every way and that's why we did the Plaid; just to show hands down, this is the way to go."
2021 Tesla Model S pricing*
| | |
| --- | --- |
| Long Range (a) | $129,990 |
| Plaid (a) | $186,990 |
*Excludes on-road costs
---