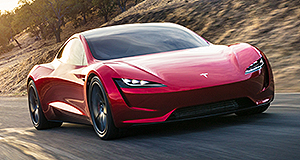 TESLA has once again pushed back the release of its hotly anticipated Roadster electric supercar with a release now earmarked for 2022 following development delays of the brand's new tri-motor powertrain and advanced battery technology.
According to a report published by Autocar, the announcement was made by via Twitter when brand CEO Elon Musk replied to a tweet asking about the progress of the Roadster's development, stating engineering would be wrapping up this year ahead of a 2022 production start.
"Finishing engineering this year, production starts next year," the tweet read.
"Aiming to have release candidate design drivable late summer.
"Tri-motor drive system and advanced battery work were important precursors."
First revealed back in 2017, the new Roadster will be the second-generation version of Tesla's first-ever production car and was reportedly scheduled to go into production this year.
While running behind on production, the Roadster will not be running behind when it comes to firepower, with Mr Musk claiming the new model will develop more than 10,000Nm of torque resulting in a 0-100km/h sprint time of just 2.1 seconds.
Using a similar tri-motor drive system as the recently revealed Model S Plaid and Model X Plaid, power is expected to rise above the 750kW mark while the top speed is expected, by Mr Musk at least, to be north of 400km/h.
Other claimed/expected performance stats include a 4.2-second dash from 0-160km/h and an 8.8-second quarter mile time.
All this firepower will come from a 200kWh battery pack which will offer close to 1000km of range (claimed).
"The point of doing this is to give a hardcore smackdown to gasoline cars," Mr Musk said back at the new Roadster's reveal in 2017.
"Driving a gasoline sportscar is going to feel like a steam engine with a side of quiche."
The new Roadster is far from the first Tesla to have its production pushed back with the Model 3, Semi and Cybertruck all having been pushed back at some stage or another, the latter two still not having a set commencement date.
Whether or not the production-spec Roadster does emerge next year remains to be seen, as does the final pricing however reservations are currently open on the Australian Tesla website.
Set to be offered initially in two versions, Tesla Australia is asking for a $66,000 deposit for the base model, made up of an initial $7000 credit card payment and a subsequent $59,000 back transfer due within 10 days of the first payment.
The 'Founders Series' variant meanwhile also requires an initial payment of $7000, followed by a $319,000 bank transfer with rumours suggesting the combined $326,000 bill to be the full purchase price.
No official reason has been given for the Founders Series' upfront payment requirements however we do know only 1000 units will be available globally.
In either case, Tesla stipulates reservations are not complete until the bank transfer has been completed.
---