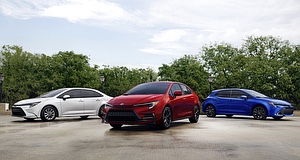 TOYOTA has revealed a mid-life facelift to the 12th-generation Corolla in Europe, which is expected to share features to be included in the Australian line-up.
The 2023 European range has an unashamedly upmarket focus with a sleeker front-end design, 12.3-inch digital instrument cluster, big 10.5-inch high-resolution infotainment screen, cloud-based navigation system, enhanced active safety, and fifth-generation Toyota hybrid technology.
While they each have their own look, the Corolla hatchback, sedan and wagon have gained what Toyota describes as a more refined and contemporary appearance through changes to the front grille mesh pattern, fog light bezels and alloy wheel designs, with the higher hatchback grades receiving new bi-LED headlights with adaptive high-beam.
Inside, the Corolla adopts Toyota's latest digital and multimedia technology, which has been designed to accommodate new features and upgrades through over-the-air updates.
The 10.5-inch multimedia display brings high-definition graphics and an anti-glare screen for good visibility in all lighting conditions.
The 12.3-inch digital instrument display, which is likely to only feature in upper-spec variants, can be customised to the driver's preference in four different modes: Casual, Smart, Sport and Tough.
In Europe, the 2023 Corolla will come with four years' access to Toyota Smart Connect or Toyota Smart Connect+ (according to model grade), giving access to "always on" cloud navigation and real-time traffic and journey information.
The driver can also make use of a new onboard voice agent, which recently debuted in the Lexus NX and recognises natural, conversational requests to operate the multimedia system or vehicle functions such as opening or closing windows.
New safety features include Toyota T-Mate, which combines the latest generation Toyota Safety Sense package with other active driving and parking assistance systems such as acceleration suppression, which reacts to sudden use of the accelerator when travelling at low speed; collision avoidance support when making a turn at an intersection; emergency steering assist that can now react to oncoming vehicles; lateral collision avoidance and curve speed reduction.
As with the infotainment system, over-the-air software updates will keep the functions up-to-date and enable new ones to be added as they become available during the vehicle's lifetime.
The Toyota T-Mate also features safe exit assist system, which triggers a warning if it detects a door being opened into the path of a vehicle or cyclist approaching from behind. There is also a new rear seat reminder which will alert the driver before they leave their car that they may need to check if they have left something or someone in the back seats.
Corollas are only available with hybrid powertrains in Europe, with the 2023 model gaining the fifth-generation petrol-electric system again with a choice of 1.8- and 2.0-litre engines.
The 1.8-litre hybrid will now push out 103kW, which reduced its modest 0-100km/h time by 1.7 seconds to 9.2 seconds, while the 2.0-litre hybrid now produces 144kW that sees it hit 100km/h from a standing start in a respectable 7.5 seconds while dropping CO2 emissions by three grams per kilometre to 107g/km.
Australia will again miss out on the 2.0-litre hybrid, though the 1.8-litre will be boosted from 90kW to 98kW. Petrol versions are also likely to still be available.
Toyota says it has tweaked the performance of its hybrid powertrains to deliver acceleration that feels natural and rewards the driver.
Previously, the focus was on linear acceleration; now, recalibration of the hybrid control has produced acceleration that more closely mirrors the driver's intention and their use of the throttle pedal. This has been achieved with a reduction in engine speed during acceleration, which has also led to less engine noise.
The updated Corolla range will go on sale in Europe and the UK during the first quarter of 2023.
Toyota Motor Company Australia (TMCA) is yet to reveal a local launch date however GoAuto understands the range will be available locally later this year.
---