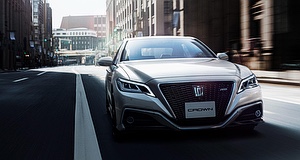 TOYOTA is tipped to return its venerated 67-year-old Crown nameplate to the market – and it will be offered as an SUV in the United States. According to a report published by Reuters, and citing company sources, the Crown will replace the Avalon sedan and the LandCruiser SUV, the latter with a "large SUV that would come initially as a hybrid".
It is understood the new Crown will be based on the Japanese-market Crown sedan and will be exported to China and North America with sales to commence in 2023. A battery-electric version is due to follow in 2024, while a plug-in hybrid variant will be sold in the Japanese domestic market only.
Confusingly, at least one variant of the redesigned Crown sedan – expected to be a performance hybrid-powered version – will also go on sale in the United States later this year, where it will compete with the likes of the Audi A6, BMW 5 Series, Genesis G80, Mercedes-Benz E-Class and similar sedans, a source told publication Automotive News.
The US-based publication said it believed the Crown SUV would slot in above the newly introduced Toyota Sequoia SUV (which is based on the 300-series LandCruiser and Tundra pick-up), but it was unclear on whether the model would offer two- or three-row seating – or the option of both.
Interestingly, the Crown was the first car Toyota exported to the United States in 1958, however, the model was withdrawn from sale two years later because the engine couldn't meet the speeds required to travel on North American freeways.
The model has remained a staple of the Toyota range elsewhere ever since, and in its fifteenth generation is one of Japan's strongest-selling models. It was a popular model with taxi operators with Crown Comfort models built between 1995 and 2018.
Second-, third-, fourth-, fifth- and sixth- and seventh-generation Crowns were sold in Australia between 1964 and 1988, the "original" MS45 series and third-gen S50 produced from CKD kits by Australian Motor Industries (AMI) in Port Melbourne (from 1967). Later generation Crowns were fully imported. The Crown was replaced locally by the Cressida in 1988.
The latest S220-series Crown is offered in Japan with rear- and all-wheel driveline configurations and with a choice of petrol and petrol-electric hybrid powerplants. The four-door sedan is built on Toyota's GA-L platform, which also underpins the hydrogen-powered Mirai, and Lexus LC and LS variants.
The Crown nameplate is also used as a high-end sub-brand of Toyota in China, where it is offered in both SUV (Crown Kluger) and MPV (Crown Vellfire) variants.
---