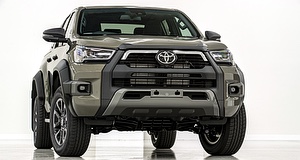 THE likelihood of a 3.3-litre twin-turbo V6 diesel version of the Toyota HiLux one-tonne ute just became a bit stronger thanks to substantial engineering upgrades to Australia's most popular vehicle.
Powertrain sharing across Toyota's range is common, but shoehorning the LandCruiser 300's 227kW/700Nm V6 engine into a HiLux would be quite momentous because it would elevate the Japanese ute flagship right up to the main competition, Ford's new Raptor V6.
Toyota Australia remains tight-lipped about the prospect of a V6 diesel HiLux, but company insiders do not deny the possibility of such a model "down the track".
On the back of recording the highest ever number of monthly HiLux sales in June, Toyota Australia has announced an extensively revised and re-engineered top-of-the-range Rogue, as well as a new "apex" variant to replace the Rugged X.
The wide-body Rogue will be here in the last few months of this year, replete with a 140mm wider track, 20mm raised ride height, rear disc brakes and other suspension and wide-body enhancements to make it a better vehicle – both off- and on-road.
Several of the changes suggest Toyota engineers have prepared the HiLux's engine bay for a 3.3-litre V6 diesel heart transplant – it is already big enough to accommodate the 4.0-litre petrol V6 that was dropped from the Australian market in late 2017 – as well as accounting for the significant increase in performance.
Toyota already has a LandCruiser-poweed HiLux of sorts in the shape of its GR DKR HiLux T1+ that competed in this year's Dakar Rally with the 298kW/660Nm 3.5-litre twin-turbo petrol V6 from the 300 Series and related Lexus LX.
Apart from repositioning the factory intercooler, no changes to the engine were made as it was deemed capable and robust enough to operate under rally raid conditions in standard form.
Were Toyota to go for the Dakar-proven petrol V6 for its HiLux Rugged X successor, it would comprehensively out-punch the Ranger Raptor's 292kW/583Nm 3.0-litre V6 turbo-petrol.
No wide-body Rogue pricing details were forthcoming from Toyota, though the current variant goes for $70,200 before on-road costs so the wide-body version is likely to be priced somewhere between that and the new $85,490 + ORC Ranger Raptor.
The changes encompass features that HiLux owners have procured from aftermarket suppliers and providers in the past – Toyota Australia has the advantage of a local HiLux "skunk works" that continually develops the vehicle, tests new products and features locally and evaluates their worth for possible inclusion on Australia's most popular vehicle.
As for the other big HiLux revelation, Toyota is keeping mum on its "apex" variant – and how much it will cost – but the smart money is on a vehicle packaged along the lines of the much more affordable $67,490 + ORC Nissan Navara Pro-4X Warrior, which is to say it will be specced-up to suit or surpass the competition.
At this point, the most likely engine will be the current 150kW/500Nm 2.8-litre four-cylinder turbo-diesel motor – the Navara Warrior's engine is also unchanged from stock – but the V6 would be a dream choice for many HiLux buyers.
To accommodate the Rogue's track increase, Toyota engineers extended the ute's front suspension arms and front stabiliser bar, while the shock absorber angle was adjusted to improve efficiency.
At the rear, engineers extended axle length – on a rigid differential arrangement – and then set about re-jigging the suspension, including moving the dampers further out towards the wheels.
For the first time on HiLux, a rear stabiliser bar has been installed to enhance cornering stability and ride comfort.
As a result of the suspension changes, roll rigidity has been enhanced by 20 per cent, which is said to improve steering feel when cornering and changing lanes.
The Rogue features improved stopping power with rear ventilated disc brakes replacing the existing drum brakes, while new 17-inch front disc brakes are an inch bigger than they were before.
Due to the increased track width, wide track over-fenders and mudguards have been installed, while the front body extension has been widened to integrate with the front bumper.
The latest developments are a continuation of what some describe as Toyota's drip-feed "democratisation" of equipment, a policy that starts with the top-of-the-range variants then, over time, filters down to other models.
Toyota Australia's vice president of sales, marketing and franchise operations, Sean Hanley, said the introduction of the updated Rogue demonstrated Toyota's dedication to offering ever-improved vehicles for customers.
"The significant suspension upgrades to the HiLux Rogue not only improve off-road capability but create a more stable and comfortable on-road driving experience," Mr Hanley said.
"Continuous improvement is a key facet of Toyota's philosophy and has been clearly achieved by this latest HiLux premium model."
Coinciding with the arrival of the wide-bodied Rogue, Toyota is introducing upgrades to core variants of Australia's best-selling vehicle.
SR extra-cab and double-cab models receive new black 17-inch alloy rims (they substitute steel wheels) and body-coloured door handles have been adopted for a more premium look.
SR5 double-cab pick-ups gain extra active safety equipment as standard, with the addition of a blind-spot monitor and rear cross-traffic alert. These features are also included on the Rogue.
A panoramic view monitor has been added to SR5 double-cab pick-ups to help manoeuvre in tight spaces, as have puddle lamps, which replace heated exterior mirrors.
The steering column lock has been replaced by an ID Box anti-theft immobiliser on automatic SR5 grades and above, which adds an extra level of security when starting the car with the smart key.
In what could be a much lamented move, the new "apex" HiLux sees the demise of Rugged X, a favourite with off-road enthusiasts.
Since launching in 2018, HiLux Rogue and HiLux Rugged X have accounted for more than 17,000 sales, establishing themselves as the halo variants of the HiLux range.
---