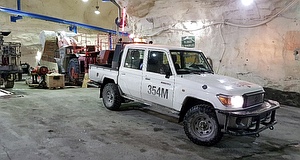 THOSE who think battery-electric four-wheel-drive utes would lack the endurance to take on harsh Australian conditions had better think again.
Word has it that an electric version of the Toyota LandCruiser 70 Series recently broke the dynamometer at the Denso Automotive Systems' testing facility in Clayton during testing in its state-of-the-art climatic chamber.
An anonymous source has told GoAuto that the LandCruiser 70 EV, being co-developed by Toyota Motor Company Australia (TMCA), global renewable energy company VivoPower and Australian EV conversion specialist GB Auto, was running at full gross vehicle mass (GVM) at 60 degrees Celsius when it "broke the machine".
"The testing dyno is designed to break the vehicle, the opposite happened and the testing had to be aborted," the source said.
"This has not happened in 26 years. Who has ever heard of an EV platform outperforming a diesel configuration in these conditions?"
Perhaps coincidentally, this tipoff came in the wake of VivoPower's announcement last month that it had executed a design services agreement with TMCA "for its wholly-owned subsidiary, Tembo e-LV to be commercially engaged in relation to the next stage of design of electrification solutions for the Toyota LandCruiser 70 for off-road applications in Australia".
It is unclear how much damage the dyno equipment sustained and how it impacted Denso's testing services.
According to the Denso website, the climatic chamber features a four-wheel-drive capable chassis dynamometer and can simulate a broad range of environmental conditions equivalent to Middle Eastern, tropical and cold climates with a sunlight replication system that can achieve vehicle heat loading that is almost identical to true solar spectrum.
So, it is no small feat when a vehicle subjected to such a stress test can endure it longer than the testing equipment.
If TMCA and GB Auto were pleased the LC70 EV – which is being developed to operate in mine sites in some of the hottest places on Earth, including the Pilbara region of Western Australia – appeared to spectacularly pass the heat test, they are not showing it.
When GoAuto contacted each organisation for comment, neither would confirm nor deny the episode occurred.
GoAuto has also reached out to Denso for comment.
GB Auto has been co-developing the LandCruiser 70 EV for almost 12 months, since TMCA and VivoPower announced a binding letter of intent to supply locally converted electric LandCruisers 70 Series vehicles to fleets around the country.
Under the terms of the agreement, VivoPower becomes Toyota Australia's exclusive partner for Land Cruiser 70 Series electrification for five years, with a further two-year option.
GB Auto is carrying out the conversions, using kits designed by VivoPower's Netherlands-based EV subsidiary Tembo, for which it is the exclusive Australian distributor.
In a statement, VivoPower executive chair and CEO Kevin Chin said the company was "honoured to have entered into this commercial agreement with TMCA and are fully committed to working closely with the TMCA team to deliver an electrified LandCruiser 70, which is fit for purpose and safe for corporate fleets, especially for off-road use cases such as mining".
"We have now dedicated a team within Tembo that is solely focused on this important TMCA project. We will also be sub-contracting our partner in Australia, GB Auto, given their dedicated mining sector experience."
Under a separate deal with Tembo announced early last year, GB Auto will buy 2000 e-LV conversion kits from Tembo 4×4 over the next four years and convert a fleet of LandCruiser and HiLux utes at its base in Orange, NSW.
The kits are specially designed for harsh mining conditions, where they will reduce vehicle emissions and require less maintenance.
In the most powerful configuration so far officially announced, they provide the LandCruiser 70 Series up to 110kW of power and 250Nm of torque. A maximum range of 200km is claimed with their standard-fit 72kWh battery, with on-site charging networks ensuring a fast turnaround.
According to GB Auto, the 2000 kits will generate A$327 million in revenue from complete-vehicle sales.
In addition, GB Auto has become part of Tembo's global supply chain, responsible for designing and supplying all the high- and low-voltage wiring harnesses for LandCruisers converted using Tembo kits.
The converted LandCruisers will be fully road-legal and ADR approved when they roll out of the remanufacturing facility.
---