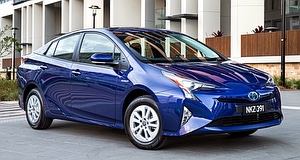 AFTER a 21-year tenure in the Australian new-vehicle market, during which it notched up 35,947 unit sales, the Toyota Prius has bowed out.
Toyota Australia has officially retired the model following its slowest-ever sales year and says the discontinuation will "pave the way" for its next generation of electrified models.
Year-to-date sales of the Prius total just 77 units, well short of the model's zenith of nearly 3500 units back in 2008. The model's sales total in Australia includes 20,847 hatch models, with the remainder comprised of Prius C and Prius V variants.
Toyota Australia says the launch of the Prius in October 2001 laid the foundation for the widespread acceptance of hybrid technology in the market, and that the model's legacy will live on through future battery electric, plug-in hybrid and fuel-cell vehicles.
Locally, Toyota now offers the broadest range of petrol-electric hybrid models of any manufacturer – the Camry, C-HR, Corolla, Kluger, RAV4, Yaris and Yaris Cross ranges all offer at least one hybrid variant.
As reported by GoAuto last month, Toyota hybrid variants outsell the combined petrol-electric models in Kia, Hyundai and Ford's line-ups in Australia. In fact, hybrids represent 32.5 per cent of Toyota's Australian new-vehicle sales. To put it another way, if Toyota Hybrid was a stand-alone brand, it would be Australia's fourth-largest selling car firm.
"When we launched the Prius, it was difficult to predict the enormous impact that Toyota hybrids would eventually have on the Australian automotive landscape," said Toyota Australia vice president of sales, marketing and franchise operations, Sean Hanley.
"In 2001, we sold just a handful of Prius cars, taking until mid-2018 to reach 100,000 Toyota hybrid electric vehicle sales and surpassing the 200,000 sales mark in 2021.
"The Prius blazed a trail by offering Australian motorists a more efficient and low-emissions motoring experience – traits that have resonated with buyers more and more over time. In fact, hybrid electric vehicle technology, in terms of market acceptance, was not an overnight success. It has taken more than twenty years, but it still forms an important part of Toyota's electrification strategy.
"It recognises practicality, performance and affordability whilst reducing the CO2 footprint of our vehicles. It enables Australian customers to have access to a technology that plays an important role in not leaving anyone behind, as we forge a future towards carbon neutral mobility.
"Last year, Toyota sold more than 60,000 hybrid-electric vehicles and we expect that 2022 will continue Toyota's strong leadership in the sales of electrified vehicles. We look forward to continuing the Prius legacy through our broad range of powerful and efficient hybrid electric offerings."
The Toyota Prius was launched globally in 1997 with a 1.5-litre four-cylinder Atkinson-cycle petrol motor that produces 53kW/115Nm, which was mated to a 33kW electric motor. It was followed by the second-generation version launched at the 2003 New York International Auto Show and, by the time the third-generation version was released in 2009, the Prius had accounted for more than 1.2 million deliveries across 80 countries.
Toyota expanded the Prius line-up with the Prius C and Prius V in 2012 before launching its fourth-generation range in 2016.
---