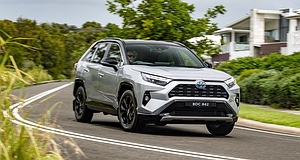 TOYOTA will upgrade its popular RAV4 in the second half of this year with several enhancements to its multimedia, technology and safety systems.
Included is Toyota's latest generation multimedia system across the range with USB-C connection and the addition of Connected Services. Further, all variants will be upgraded with Toyota's Safety Sense suite of driver-assistance technologies, including Intersection Pre-Collision Safety and Emergency Steering Assist.
Toyota Motor Corporation Australia (TMCA) says various other features will be applied to certain models and grades within the RAV4 range with pricing adjustments and specification to be confirmed closer to their introduction. The RAV4 range is currently priced from $34,400 to $52,700 (plus on-road costs).
The RAV4 range has faced significant supply delays over the past 12 months as COVD-19 related manufacturing, shipping and parts shortages impacted the model's supply. Hybrid models were particularly hard hit as Toyota assembly plants in Japan and Thailand were shut down late last year because of parts shortages – largely caused by the lack of semiconductor availability.
Toyota reduced its production output by 400,000 cars each month in September and October last year, the company revising down its overall annual output number in January (2022) to "well below 9.3 million units".
On the topic of the result supply issues, a TMCA spokesperson told GoAuto that, "as a result of global supply challenges, Toyota Australia is experiencing longer wait times for new-vehicle deliveries across its range.
"Our focus remains on doing everything we can to get customers into their new Toyota vehicles as soon as possible. As the availability of supply is an evolving situation around the world, we continue to work closely with our global production team to secure the maximum possible number of vehicles for our local customers.
"We are continuing to update our dealers as the situation evolves. Dealers are best placed to provide customers with the most up-to-date delivery information for their specific vehicle."
The more positive news is that the new model is set to give RAV4 buyers more of what they want, says TMCA vice president of sales marketing and franchise operations, Sean Hanley.
"Toyota is always keen to provide the latest safety, connectivity and multimedia technologies that customers want and as soon as they are available for our market, we make them available for our customers," said Mr Hanley.
"This latest round of upgrades for the RAV4 will make what is already the most popular medium SUV even more appealing. Toyota will continue to keep our customers updated on upgrades and future models and we encourage our customers to speak with their preferred Toyota Dealer about these upgrades."
Despite supply-related availability issues, the Toyota RAV4 continues as Australia's best-selling SUV, dominating the Medium SUV under $60k market segment with a 25.3 per cent share.
Toyota has sold 10,489 examples of the RAV4 so far this year, outpacing the Mazda CX-5 (with 8250 unit sales) by 21.4 per cent.
The remainder of the Medium SUV under $60k segment top-10 list is made up of the Mitsubishi Outlander (4644), Kia Sportage (3936), Subaru Forester (3455), Nissan X-Trail (2027), Honda CR-V (1949), Hyundai Tucson (1922), MG HS (1454) and Renault Koleos (1037).
2022 Toyota RAV4 pricing*:
| | | |
| --- | --- | --- |
| GX | $34,400 | (+$100) |
| GX Hybrid (a) | $36,900 | (+$380) |
| GX (a) | $37,950 | (+$125) |
| GX Hybrid AWD (a) | $39,900 | (+$100) |
| GXL Hybrid (a) | $40,450 | (+$125) |
| Cruiser (a) | $43,250 | (+$750) |
| XSE Hybrid (a) | $43,250 | (+$425) |
| GXL Hybrid AWD (a) | $43,450 | (+$125) |
| Cruiser Hybrid (a) | $45,750 | (+$750) |
| XSE Hybrid AWD (a) | $46,250 | (+$425) |
| Cruiser Hybrid AWD (a) | $48,750 | (+$380) |
| Edge AWD (a) | $50,200 | (+$380) |
| Edge Hybrid AWD (a) | $52,700 | (+$380) |
*Pricing excludes on-road costs.
---