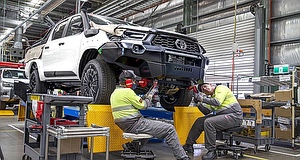 TOYOTA has cut its global production forecast for July by 50,000 units as semiconductor and parts-supply disruptions continue to curb the Japanese firm's output.
In a statement, Toyota said it would drop its volume to 800,000 units worldwide; the company also apologised to customers for ongoing delays, most of which it attributed to the lingering effects of the COVID-19 pandemic.
"We would like to again apologise for the repeated adjustments to our production plans due to the parts shortage resulting from the spread of COVID-19, and for causing considerable inconvenience to our customers (who have been waiting for the delivery of vehicles), suppliers, and other parties concerned," Toyota said in a statement.
"The global production volume for July is expected to be approximately 800,000 units –approximately 250,000 units in Japan and 550,000 units overseas. We have revised the global production plan by about 50,000 units from the number provided to our suppliers at the beginning of the year.
"As for July, we previously announced that some plants in Japan will suspend operations. However, due to the continued impact of a COVID-19 outbreak at one of our suppliers, we have decided to extend the period of operations suspension at some of our plants and production lines."
Toyota said it expected the 850,000-unit monthly average to be the norm until at least September, and that the adjustment would not impact its previously announced fiscal-year total of 9.7 million units.
"It remains difficult to look ahead due to the shortage of semiconductors and the spread of COVID-19. There is a possibility that the production plan may be lower," it cautioned.
"However, we will examine the parts supply closely to minimise sudden decreases in production, and continue to make every effort possible to deliver as many vehicles to our customers at the earliest date."
In Japan, Toyota will suspend production at its Motomichi plant – where the all-electric bZ4X, GR Yaris and Lexus LC are produced – for two weeks in July, while the Takaoka plant – where the Kluger and RAV4 are produced – will also impacted for a fortnight.
Other facilities, including Tahara (Lexis LS, IS, RC and NX), Iwate (C-HR, Yaris and Yaris Cross), Miyagi Ohira (Yaris Cross and Corolla), as well as Fujimatsu and Yoshiwara (Lexus LX, Toyota LandCruiser 70 Series and 300 Series) are also affected by the slowdown.
As reported by GoAuto previously, Toyota made similar adjustments to its production tally in June (-40,000 units) and May (-50,000 units) of this year; it's but one of several manufacturers across the globe in struggling to meet the demand for new models.
Recent lockdowns in China have further destabilised parts supply for a range of manufacturers, including Tesla, who this week said it was facing similar issues at its two newest Gigafactories.
Items ranging from battery packs to driveline components, down to the smallest microprocessors are affected by a shipping backlog directly related to China's most recent lockdown of Shanghai and its critical international port.
Locally, Toyota Australia told GoAuto News that the production cutback was likely to have some impact on new-vehicle delivery times Down Under, but that it was doing "everything possible" to deliver vehicles to its customers as soon as possible.
"Toyota Australia continues to work closely with our global production tram to support our dealer and our customers. Together with our parent company, we are doing everything we can to get customers into their new Toyota vehicles as soon as possible," the spokesperson said.
"We ask customers seeking an update on their individual order to please contact their local/preferred dealer, who is best placed to assist. We apologise to customers experiencing delays and sincerely thanks them for their patience."
---