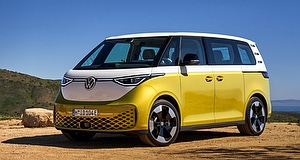 VOLKSWAGEN is pondering an expansion of its Chattanooga plant in the United States to produce the new ID Buzz electric minibus and an electric pickup, Reuters reports.
An unnamed source at VW told Reuters that Volkswagen hoped to use the expansion as a springboard from which to increase its market share in North America (which the Wolfsburg-based brand recently identified as the region with the greatest growth potential, considering that it had been unprofitable for several years before 2021.
In March, VW announced that it was shifting some of its production to the States and China because of the war in Ukraine, which has caused production stoppages at its European plants because of disruptions in the supply of parts, such as of wiring looms.
Volkswagen plans to invest at least $7.1 billion ($A10 billion) over the next five years in North America and add 25 new electric vehicles there by 2030, at which point it expects all-electric models to account for 50 per cent of sales.
Production of the Passat recently ended at the Chattanooga plant, which currently builds the Atlas and Atlas Cross Sport crossovers based on Volkswagen's MQB platform.
The Tennessee facility also began pilot production of the ID4 battery-electric crossover began in preparation for a North American market introduction in the third quarter.
Therefore, it stands to reason that Volkswagen's retro-inspired ID Buzz minibus and van, which is underpinned by the same Modular Electrification Toolkit (MEB) as the brand's other battery-electric models, would be put into production in North America.
The minibus is being produced in VW's plant in Hanover, but although early units for the North American market will undoubtedly be imported from Germany, it stands to reason that units will be sourced from Chattanooga once local production comes online.
But what of the electric ute? Although the MEB platform is eminently scalable for larger vehicle applications, it has not been earmarked to underpin a pick-up, at least publicly.
Therefore, it's more likely the Wolfsburg-based brand's battery-electric pick-up would be produced as a by-product of the German firm's Global Alliance with Ford, whereby the former will, among other things, supply MEB for the latter's passenger vehicle line-up in Europe and the latter produce the former's Ranger-based next-gen Amarok for VW.
In February, Volkswagen Group CEO Herbert Diess expressed his desire to see the brand produce an electric pick-up, which stirred up rumours that Volkswagen could be planning to produce a full-sized electric pick-up based on the F-150 Lightning…
However, given that Volkswagen Commercial Vehicle's board member for marketing, Lars Krause, recently revealed to Autocar that a battery-electric Amarok could come to fruition within the new model's lifecycle and that Ford CEO Jim Farley has announced that the Blue Oval plans to build another electric pick-up model (also in Tennessee), VW's upcoming e-ute's is likely to be an Amarok – or something else, but Ford-based.
What's more, Manager Magazin reports that VW is planning to build another plant in the US, which should see it increasing its production capacity to 600,000 vehicles a year.
Citing stakeholders, the magazine said the new plant could be built next to the current Chattanooga factory and that the Wolfsburg-based company was also considering construction of a battery-cell plant. Volkswagen, however, declined to comment.
---