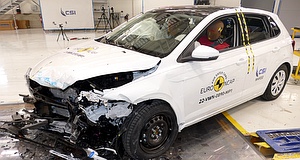 ANCAP has today awarded the updated Volkswagen Polo with a five-star safety score. The Polo, which was recently revised to offer a more advanced autonomous emergency braking system and other key passive and active safety features and technologies, achieved five-star scores in all key areas of the safety assessment.
The revised Polo, which commenced sale in May 2022, received its second five-star crash rating this week having undergone a fresh round of independent testing.
In recent times, Toyota is the only other vehicle brand to reassess a model following a mid-life upgrade when its 2019 HiLux range scored a five-star rating following its initial result in 2015.
The five-star score, which applies to all Volkswagen Polo variants, comprises a 94 per cent adult-occupant protection rating, an 80 per cent child-occupant protection rating, a 70 per cent vulnerable road-user protection rating and a 70 per cent safety-assist protection rating.
Tested under ANCAP's previous criteria, the Volkswagen Polo scored 96 per cent, 85 per cent, 76 per cent and 59 per cent respectively in the aforementioned categories.
The newest figures reflect the addition of safety equipment including a centre airbag and upgraded lane-support systems such as lane-keep assist, lane-departure warning, and emergency lane keep as standard across all variants, says ANCAP CEO Carla Hoorweg.
"This is a significant achievement," said Ms Hoorweg.
"The current generation VW Polo already held a strong five-star ANCAP safety rating following testing when it first arrived in the market in 2018. The significance of this revised rating is that it has now earned a revised five-star rating with a 2022 date-stamp.
"Volkswagen's addition of more advanced autonomous emergency braking and lane-keep assistance systems and a centre airbag means the Polo now comes with the passive and active safety features and technologies required to earn a five-star safety rating against the most stringent requirements to date.
"The Polo has cleared this hurdle due to Volkswagen making an active move to further enhance its safety specification. This is a very welcome move, and one which ANCAP encourages all manufacturers to consider.
"This is a definite win for the safety of Volkswagen Polo buyers and the other road users these vehicles will mix with. Facelifts should always be more than just a new range of paint colours, engine line-ups or interior trim updates.
"Inclusion of the latest safety features has tangible benefits for all road users."
---