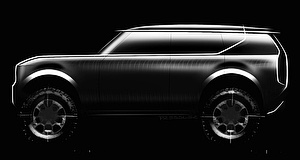 VOLKSWAGEN has formally revealed it is adding another brand to its vast stable as it seeks to tackle the white whale of the electric vehicle market – four-wheel-drive pick-ups and SUVs.
The German car-making giant has resurrected the Scout badge to represent its 4×4 EV push, which will focus on the North American market when production begins in 2026.
Not to be confused with the Skoda Superb and Octavia Scout all-terrain wagons, the new brand harks back to International Harvester Scout, a funky two-door Ford Bronco rival that was produced between 1961 and 1980.
Volkswagen acquired the brand in 2020 when its Traton truck division purchased heavy truck and engine maker Navistar, which was established in 1985 after International Harvester folded.
The Scout name offers off-road credibility against the big-three Detroit car-makers, which still dominate their local 4×4 SUV, pick-up and light truck markets, and will provide an established alternative to off-road EV start-ups such as Rivian.
Volkswagen Group CEO Herbet Diess said the Scout brand will enable the company to strengthen its position in one of the most significant growth markets for EVs.
"Electrification provides a historic opportunity to enter the highly attractive pick-up and R-SUV (rugged SUV) segment as a group, underscoring our ambition to become a relevant player in the U.S. market."
According to Volkswagen Group CFO Arno Antlitz, the new company will establish this year, operating as a separate unit and brand. It will also be managed independently.
Scout models will be designed, engineered, and manufactured in the US for American customers on a new, yet to be unveiled platform concept – it is unclear if the new underpinnings will be built in partnership with Ford, which recently announced it will introduce a second EV model based on the Volkswagen's MEB battery-electric platform.
The first Scout prototypes will be unveiled in 2023 with production slated to start in 2026.
According to the Wall Street Journal, Volkswagen hopes to build 250,000 Scout vehicles each year.
Where in the United States they will be built is still unclear, but the company will invest up to US$1 billion ($A1.43b) on the project.
Apart from a purple patch in the early 1970s where it enjoyed a five per cent market share in the US on the back of the popularity of the Beetle and Kombi, Volkswagen has struggled to make inroads in the US.
In 2012, its market share reached a high of 3.04 per cent but started declining in 2013 before plummeting in 2016 in the wake of the Dieselgate scandal.
VW Group now sees success in the R-SUV and pick-up segments as a key to increasing profitability in the US and achieving its ambitious target of 10 per cent market share.
It remains to be seen how Volkswagen's decision to compete in Ford's heartland will affect the relationship between the two manufacturers.
---