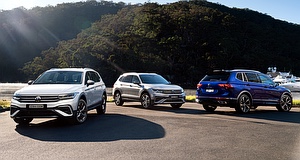 Overview
SINCE its local launch in 2017, the Volkswagen Tiguan has carved out an impressive niche for itself in the Australian automotive landscape. While not as affordable or – initially at least – well-equipped as its immediate competition, it did enough of what its predecessor did on badge-value alone and convinced buyers to spend extra. It was bigger than most of its rivals, far better to drive than some of them and, in an extremely competitive segment, distinguished itself.
A couple of years later came an oddball idea that Mazda tried out and, to be fair, Kia paved the way for with the Rondo. Seven-seaters had traditionally been quite large and the Rondo started a niche trend of having those extra seats, but without going to town on the acreage. Cramming seven seats into a Tiguan was easier than Kia's task with the smaller, MPV-style Rondo, but the concept was the same.
The interesting part is when you discover that while we have the Allspace suffix here, the American market doesn't even get the short wheelbase version, so the long wheelbase is known simply as Tiguan. The first version even had a different bonnet design to make it look bigger – to suit US tastes, of course.
The Allspace facelift follows the update to the standard model launched last year. It's been a rocky couple of years for VW as its supply situation lurches from shortage to shortage, with stock nowhere near keeping up with demand. It's a common story in today's market, of course, but one that is particularly galling given the sheer size and resources of the VW Group.
For 2022, there are seven distinct variants of the Allspace. The range starts with the cloth-trimmed 110 TSI Life at $44,590 (plus on-road costs), which is a front-wheel-drive 7-seater powered by a 1.4-litre turbopetrol engine mated with a six-speed dual-clutch automatic (DSG) transmission. It comes with a comprehensive safety package, digital instrument cluster, satnav, LED headlights, three-zone climate control, wireless Apple CarPlay and Android Auto, as well as wireless phone charging.
For another $4000, you can have the 132 TSI Life, which is the first in the range with a 2.0-litre turbo-petrol engine and all-wheel drive (it's also fitted with a DSG, but a 7-speed version).
A big jump to the Elegance 162 TSI lands you the most popular engine in the Tiguan ranges – the 162kW/350 Nm version of the 2.0 litre. VW's supply problem is most acute at this point, with the local operation struggling with getting Elegance and R-Line specs in meaningful numbers.
This triggered a search for a solution to VW Australia's problem of not being able to secure enough 162 TSI cars to satisfy market demand. Enter the Tiguan Allspace Adventure – oddly, it will be delivered as a five-seater on 17-inch wheels and some mild ruggedisation in the form of predictable cladding, bash plates and an accessory range that includes snow chains.
Based on a combination of the Life and Pro Line trim levels, it doesn't consume as many precious chips and VW Australia hopes it will satisfy the needs of buyers pining after the powerful 162 engine and with $51,900 (+ ORCs) to spend. The Adventure variant (due to arrive here around August) seems an interesting idea and might also tempt a few Passat prospects…
The Elegance petrol ($56,990 (+ORCs) and diesel $61,190 (+ ORCs) additionally feature a leather interior, a larger (9.2-inch) touchscreen, some chrome, bigger wheels, adaptive suspension, Matrix LED headlights and heating for front and outboard middle row seats.
Moving on to the R-Line – now its own spec after the popularity of the R-Line pack equipped Elegance – you'll pay $58,490 (+ ORCs) for the petrol and $61,690 (+ ORCs) for the diesel.
The R-Line comes with 20-inch alloys, progressive steering rack, animated LED headlights and taillights (with a "click-clack effect"), plenty of R-badging on the leather interior, R-Line steering wheel (with touch-control buttons and haptic feedback), as well as a body kit.
Standard safety kit includes the usual complement of airbags (including curtain airbags that reach the third row), forward AEB with pedestrian detection, adaptive lane guidance, forward- collision warning, forward AEB, lane assist and driver-attention detection.
Eagle-eyed spec fiends will notice that reverse cross-traffic alert and side assist are missing from the spec list… Unfortunately, the continuing story of chip shortages means that a batch of about 4000 Tiguans has these items, but subsequent lots will not – until later this year.
These will eventually be returned to the standard specification, so talk to your dealer about your options. If you already have an order, there are various levels of compensation available to you, as well as the option to cancel or delay delivery until you're satisfied.
Also, the powered tailgate reverts to being an option and the click-clack rear LED lights will also drop off the list before returning as an option.
The Tiguan Allspace's prices appear fairly steep compared with those of rival models. The entry-level Life is more than $5000 dearer than a Mazda CX-8 petrol although a spec walkthrough may justify the VW's premium. In the middle of the range, the story is similar against the Mitsubishi Outlander Exceed which, while vastly improved, is still no match for the Tiguan Allspace and offers less occupant space.
VW also thinks the Tiguan Allspace will attract full-size seven-seater buyers from models such as the Kia Sorento, Toyota Kluger and Hyundai Santa Fe where the pricing makes more sense, even if those cars are substantially larger.
Service pricing for the Allspace comes in at $1400 for three years on the 110TSI and $2600 for five years. All other grades are $1650 for three years and $2950 for five, which is a little pricey, but these plans will save you between ten and twenty-five percent on pay-as-you-go servicing.
---