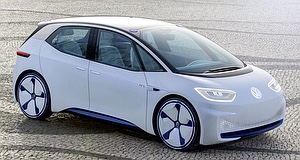 VOLKSWAGEN and Franco-Italian multinational STMicroelectronics have signed an agreement to develop new chip technology the duo says will 'actively shape' the entire semiconductor supply chain.
Volkswagen Group's software unit Cariad will design the chips, partnering with STMicroelectronics to "co-develop semiconductors for (use within) a cross-brand single software platform". It is understood the new chip will form part of the Stellar microcontroller family of semiconductors.
"CARIAD and STMicroelectronics are developing perfectly tailored hardware for connectivity, energy management, and over-the-air updates making vehicles fully software-defined, secure, and future-proof," said Cariad in a statement.
"The planned cooperation targets the new generation of Volkswagen Group vehicles that will be based on the unified and scalable software platform.
"At the same time, the parties are moving to agree that TSMC, one of the world's leading dedicated semiconductor foundry companies, will manufacture the SoC wafers for STMicroelectronics.
"With this move, CARIAD aims to secure the chip supply for the Volkswagen Group's cars years in advance," the statement concluded.
According to a report published by Automotive News Europe (ANE), both Volkswagen Group and STMicroelectronics are "moving to agree" that Taiwan Semiconductor Manufacturing Company (TSMC) will manufacturer the new microprocessor.
"With the planned direct cooperation with STMicroelectronics and TSMC, we are actively shaping our entire semiconductor supply chain," said Volkswagen Group's head of procurement, Murat Aksel.
"We are ensuring the production of the exact chips we need for our cars and securing the supply of critical microchips for years to come."
Volkswagen's Cariad division was established in 2020 to coordinate software related resources, including those which are to be used as part of VW's Trinity project in 2026.
The division has so far released a toolkit for Volkswagen's ID series of electric cars (widely known as the MEB platform) and the development of premium software architecture for Audi and Porsche brands.
"STMicroelectronics designed its Stellar architecture specifically to facilitate the transition to software-defined vehicles and CARIAD's decision to work with ST to fit the requirements and functionalities of the Volkswagen Group's next-generation vehicles highlights the success of our approach," explained STMicroelectronics president of automotive and discrete products group, Marco Monti.
"The combination of Cariad's software competences with STMicroelectronics' design expertise and innovative Stellar automotive architecture will position the Volkswagen Group to deliver best-in-class, connected, software-defined vehicles."
Mr Monti said Cariad and STMicroelectronics have agreed on the key points of the cooperation and that the details of the cooperation will now be finalised between the companies and cast into detailed agreements.
This week's agreement is the second chip-focused partnership for VW's electrification push. Cariad said in May it had signed a deal with Qualcomm to assist with automated driving applications. It also signed an agreement with Bosch in January to codevelop autonomous driving functions across all vehicle classes.
The announcement comes the same week Bosch announced its own plans to bolster production of microprocessors globally.
Bosch said it will invest more than $A4 billion in its semiconductor business by 2026 addressing shortfalls across a range of industries and researching new kinds of microprocessors for use within automotive production.
"Microelectronics is the future and is vital to the success of all areas of Bosch business – we hold a master key to tomorrow's mobility," explained Bosch chairperson Stefan Hartung.
"Europe can and must capitalise on its own strengths in the semiconductor industry. More than ever, the goal must be to produce chips for the specific needs of European industry."
---