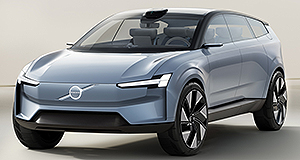 SWEDISH car-maker Volvo has outlined the next stage of its evolution, making technology announcements and previewing the styling of its all-electric next-generation model line-up with the wagon-like Concept Recharge.
Volvo will join a growing number of automotive manufacturers to bring software development in-house and develop a technological backbone called VolvoCars.OS that will run on a consolidated 'core' of hardware rather than the multiple interconnected control units used on most cars today.
The company will also aggregate and process real-world traffic data in real time – as well as that from customers who opt in to share theirs – to analyse inputs from various sensors in the active safety, driver-assist and autonomous driving systems with a view to accelerating the development of these technologies.
Volvo's first model to be underpinned by an all-new dedicated electric architecture will be revealed next year and is expected to replace the ageing XC90, given the company describes it as a "forthcoming fully electric flagship SUV".
It will run on VolvoCars.OS, integrate the data gathering project, feature a Luminar-sourced LIDAR sensor and could look a lot like the Concept Recharge.
Freed from the requirement to house an internal combustion engine, the Concept Recharge's designers have been able to maximise both interior space and aerodynamics while maintaining Volvo's styling hallmarks – including a nod to the squared-off wagons of yesteryear.
Perhaps referencing the 1980s 480 coupe with which it shares much of its silhouette, the Concept Recharge features a modern take on pop-up headlights in which Volvo's 'Thor's Hammer' daytime running light signature split and retracts to reveal an array of beam units for night driving.
Between the lights is an illuminated Volvo motif on a panel described by the brand as a "shield-like structure" representing the traditional radiator grille.
A slim pod above the windscreen houses the LIDAR sensor, which Volvo and many other brands consider an essential supplement to existing radar, ultrasonic, and camera-based sensors for delivering the necessary field of view and quick reaction times – in all lighting conditions – for autonomous driving capabilities.
The airy cabin has a completely flat floor – owing to the new electric-only platform – and is furnished in typically Swedish minimalist style, with a 15-inch portrait-oriented touchscreen dominating the slim, wing-shaped dashboard.
Volvo's infotainment software for this screen will be developed in partnership with Google, while processing power for this and other onboard systems will come from Nvidia.
Volvo chief technology officer Henri Green said the company had "a deliberate strategy of partnering with true technology leaders where it makes sense".
"This approach of selected strategic partnerships is much more effective than trying to do everything on our own."
Between both pairs of seats in the Concept Recharge are large multi-tiered storage consoles, with a handbag tray like that of the Hyundai Ioniq 5 up front.
Due to a pillarless structure, the second-row seats are accessed via rear-hinged doors – like a Rolls-Royce – and all four open to a 90-degree angle.
Volvo Cars senior vice president of design Robin Page described the concept's interior as having "a truly Scandinavian living room feeling".
"The interior integrates our latest user experience technology with beautiful, sustainable and natural materials. Each part of the interior is like a piece of art and could stand alone as individual furniture in a room."
Mr Page said the concept represented "everything we believe customers expect from a pure electric Volvo".
"We're excited to take this philosophy into our next generation of cars."
---