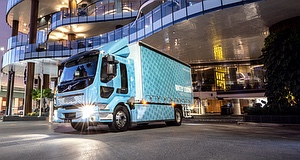 VOLVO Trucks Australia has opened the order books for its all-electric medium-duty truck range, following successful local trials with transport giant Linfox last year.
Units of the new Volvo FL and FE models will be delivered to the first Australian customers as soon as Q4 this year and available to purchase outright or under an operating lease.
The Swedish marque's medium-duty electric trucks are available in GVM options ranging from 16,000kg to 26,000kg, making them well-suited to last-mile delivery, waste collection, tilt tray and urban distribution applications.
FL models feature a single-motor driveline with two-speed automated transmission, offering up 135kW/423Nm, while the more powerful FE model utilises a dual-motor driveline, backed by the same two-speed transmission, with 225kW/850Nm on tap.
The entire medium-duty electric range will be capable of travelling 300km between charges, but this will vary depending on battery configuration and, of course, application.
Speaking of batteries, both models are offered with the option of three or four battery packs, the former providing 200kWh and the latter 265kWh.
The FL range is only available in 4×2 configuration, with wheelbases ranging from 3800mm to 5000mm, while the FE is offered with either 4×2 or 6×2 tag-axle setups and longer (3900 to 6100mm) wheelbases.
When it comes time to charge, both models will take nine hours (AC) and two hours (DC) using a Type 2 or CCS2 charge port respectively.
In good news for operators that want to run a crane or other load-handling equipment, both Volvo electric truck options are fitted as standard with a power take off (PTO) unit.
When asked about initial interest, Volvo Trucks Australia's strategic projects and communications manager, Matt Wood, explained that Australia's keen interest in electromobility had driven strong demand for the brand's FL and FE models.
"There has been a massive amount of customer interest in these trucks to date. It's safe to say there's been a groundswell of interest in electromobility in general in this country in recent times and that has translated into many enquiries about electric trucks," Mr Wood said.
"We have a strong order bank already for medium-duty electric trucks already, leading into next year."
Last year, Volvo Trucks Australia engaged in local testing with real-world customers, which demonstrated that the range was well-suited for urban distribution applications.
"When we delivered our first two electric trucks to customers for trials last year, we said that this was just the start of our Australian electro-mobility journey," Volvo group Australia vice president of emerging technology, Paul Illmer, said.
"That journey is now gathering pace as we offer a viable, safe and productive range of zero emissions medium duty trucks for the first time locally."
"Customer demand for electric transport options is fast becoming a tsunami, and with the arrival of our medium-duty electric range we are well placed to ride that wave of demand.
"The connected ecosystem around our electric offering will give customers peace of mind when it comes to making the leap to electric.
"Customer and driver feedback on our first two vehicles in service has been fantastic to date. And we look forward to seeing many more Volvo Electric vehicles quietly plying our urban roads over the next 12 months as we expand our electric range even further," Mr Illmer said.
All Volvo electric truck options will be sold with a Gold Service agreement aimed at maximising uptime, which includes all preventative maintenance and truck repairs.
---