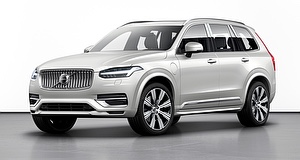 ALTHOUGH the notion of a model remaining in production after its successor has been introduced pertains mostly to low-volume specialist car makers and legacy models that get churned out in stripped-out form for developing markets, Volvo is not in a rush to discontinue its talismanic XC90, even though the large SUV's battery-electric vehicle (BEV) successor will soon go into production in South Carolina.
Automotive News Europe reports that the Gothenburg-manufacturer will keep applying cosmetic tweaks and detail upgrades to its large SUV (above $70k), which will remain in production in Sweden even after the new all-electric flagship starts rolling off the line at the brand's North American plant in late 2022 or early 2023.
"That's an advantage of building the new one in Charleston," Volvo's outgoing chief executive officer Hakan Samuelsson said.
"Why should we close down the old one in Torslanda when there's still a market for hybrids especially in the US and China?"
The XC90 was notably Volvo's third best-selling model around the world in 2021. In Australia, the line-up of the Swedish marque's seven-seat model comprises B5 and B6 2.0-litre turbopetrol mild-hybrid powertrains as well as a Recharge Plug-in Hybrid flagship with a claimed electric-only range of up to 77km.
Volvo, which intends to be an electric-only brand by 2030, has said its next BEV, which is expected to be called the Embla, will become the brand's new flagship.
However, Mr Samuelsson said Volvo would continue building the second-gen XC90, which was the brand's all-new model after Geely bought the firm from Ford in 2010.
"We will even look into upgrading it, so it looks a bit better," Mr Samuelsson added. "But technology wise, we'll invest in the new generation of all-electric cars."
Last week, Volvo announced a $1.1 billion ($A1.5 billion) investment at Torslanda, where the XC60 is also built, to prepare the plant to produce new-gen EVs that the brand says "will offer better range and faster charging times at a lower cost."
This won't be the first time that Volvo has kept a model in production despite the arrival of its replacement… The current XC90 was sold in parallel to the first-gen model from March 2015 until the end of 2016, Automotive News Europe noted.
In fact, Volvo sold 927 first-generation XC90s in 2016. In many markets, it was branded as the XC90 Classic to distinguish it from the then new-generation model.
Volvo Car Australia ended 2021 as the fastest growing premium brand in the market. Although the entire luxury car market grew only 2.4 per cent last year, Volvo notched up the biggest sales year in its history with year-on-year growth of 17.5 per cent.
The brand will introduce a compact C40 Recharge BEV – which is built on Volvo's modular CMA platform and has a distinctive coupe-SUV design ­– as well as a more affordable single-motor XC40 Recharge Pure Electric model during 2022.
"Having secured a minimum of 20 per cent production growth for 2022, things will continue to get better for Volvo Cars," Volvo Car Australia managing director Stephen Connor said last month.
"But I am determined for, and confident of, further growth and will continue to push for even more production to meet the demand of our brand."
---