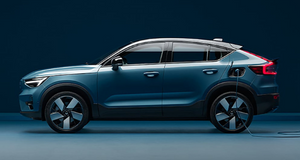 VOLVO CARS has ended 2021 as the fastest growing premium brand in Australia, the European marque notching up the biggest sales year in its history with year-on-year growth of 17.5 per cent.
Volvo Car Australia managing director, Stephen Connor, says the brand has easily outperformed its nearest rivals, achieving the impressive figure at a time when the luxury car market grew only 2.4 per cent overall.
"I am excited for our brand and what is to come in 2022. Volvo in Australia has had four years of consecutive growth and 2022 will be no different. The future of our brand and products sets us apart from other luxury manufacturers," Mr Connor said.
"To have achieved a 17.5 per cent increase in a year hampered by a number of constraints is a fantastic result for Volvo Cars, especially when the luxury segment only increased by 2.4 per cent in 2021."
While Volvo's own year-on-year figures may be up, the brand's total sales number of 9028 vehicles (0.9% market share) significantly lag other premium marques.
Audi sold 16,003 vehicles (1.5% market share) in Australia throughout 2021, BMW 24,891 (2.4%), Lexus 9290 (0.9%) and Mercedes-Benz 28,348 (2.7%). Only Jaguar Land Rover sold fewer vehicles with a total of 7681-unit sales (0.7%) for the whole of last year.
Across its range, Volvo sold just 168 examples of its S60, 148 V60 Cross Country variants, and 14 V60 variants for a total of 330 passenger car sales. Its SUV line-up performed better, the XC40 selling a total of 3687 units, the XC60 3688 units, and the XC90 1323 units for a grand total of 8698 units.
Mr Connor said he expects Volvo Cars to achieve greater sales numbers in 2022.
He says the addition of a more affordable single-motor XC40 Recharge Pure Electric model – due in local showrooms from Q3 this year – and the easing of supply chain-related restrictions are tipped to benefit the marque considerably.
"Having secured a minimum 20 per cent production growth for 2022 things for Volvo Cars will only continue to get better. But I am determined for and confident of further growth and will continue to push for even more production to meet the demand of our brand," he added.
"We are seeing a surging demand for electric vehicles in Australia, and in 2022 pure electric cars will make up a minimum 30 per cent of our sales. This will only increase as more and more Australians embrace the all-electric drivetrains.
"We are pushing for more production of our pure electric vehicles as we drive towards our 2030 goal of only selling Pure Electric vehicles," Mr Connor said.
Volvo Cars Australia will add another electric vehicle to its range from mid-year, the C40 Recharge – built on Volvo's modular CMA platform – to offer a coupe-SUV design and 420km driving range.
Powered by a 78kWh battery and available with dual electric motors, the premium offering provides comparable performance to that of the Polestar 2 with total system power of 300kW and 660Nm.
"[The] C40 Recharge has all the benefits of an SUV, but with a lower and sleeker design. It represents the all-electric future of Volvo and our commitment to zero emissions," Mr Connor concluded.
---